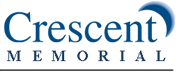 Supporting Your Local Funeral Home In Celebrating Every Life.
At Crescent, our mission is to help each and every family find peace and celebrate a life well lived. We do this by manufacturing and then providing high quality products and services through your local Funeral Home. Funeral homes across the USA and world depend on Crescent to help families celebrate and honor the life lived by their loved ones.
Crescent Delivery
Crescent understands that the celebration of a loved one's life is one of the most important events for the family and that it should be beautifully memorialized. Crescent understands that a funeral home often needs a customized product quickly or perhaps even the next day. For almost two decades Funeral Homes across the country have learned to be able to count on Crescent to deliver everything they need as soon as they need it.